I. Egg Donation – required analyses of oocyte recipient
If You decided to visit Private Clinic ELITE with infertility problems and will use donor oocytes, then please send us the following tests:
1. Analyses for oocyte recipient:
Obligatory (not valid if performed outside European Union) :
HIV (valid for 3 month)
Hbs Ag, HBc-Ab (Hepatitis B)(valid for 3 month)
anti-HCV (Hepatitis C)(valid for 3 month)
Syphilis (T.pallidum Ab), (valid for 3 month)
chlamydiosis, gonorrhoea, trichomonosis (valid for 3 month)
Complete Blood Count (valid for 3 month)
PAP test (valid for 24 month)
Recommended:
ABO-Rh Blood typing (valid for 3 month)
any day of cycle: PROL,Test,TSH (valid for 3 month)
Day 3-5 of cycle: FSH, LH (valid for 3 month)
2. Analyses for husband of oocyte recipient:
Obligatory:
Sperm analysis (valid for 3 month)
HIV (valid for 3 month)
HbsAg, HBc-Ab (Hepatitis B)(valid for 3 month)
anti-HCV (Hepatitis C)(valid for 3 month)
Syphilis (T.pallidum Ab), (valid for 3 month)
chlamydiosis, gonorrhoea, trichomonosis (valid for 3 month)
Taking or not other – recommended – tests is on your responsibility. We strongly suggest taking all the tests listed.
Testing is important because this is about your child and we can't make any mistakes regarding your child. It is not enough that patient says and gives us guarantees ("I know and do assure that I do not have any diseases nor viruses") but we need to have written proofs (that means test results). Viruses are not only sexually transmitted. These are our rules and we are responsible for that.
We prefer to receive your test results faxed (+372 740 9931) or scanned and sent by e-mail (info@elitekliinik.ee). If you like, you may also send them by ordinary mail (that takes more time and due to that it is not considered to be best option).
Woman – vaginal tests and blood test – one time.
Man – sperm test, test from urethra and blood test from vein – one time.
Blood will be given once but several tests will be made from it.
In Sweden egg donors are tested for HTLV I and II. This is not something You test Your donors for?
We determine HIV-1/HIV2 antibodies In Vitro. With fresh embryos we can never have 100% guarantee for HIV protection. To have 100% guarantee, we need first to freeze the embryos, hold embryos 6 month in quarantine, after that check again donor for HIV and only after that perform FET. With frozen embryos, we can wait 6 month, perform again test to donor (extra price) and then perform FET.
Why are tests TSH and FSH necessary in egg donation program?
If the level of TSH is not normal, recipient needs treatment. If FSH level is high, preparation without GnRh is needed, in case low, with GnRh.
FSH and LH are suggested to be done during 3-5th day of cycle to evaluate the reserv of ovaries.
All other hormons (PROL, TEST and TSH) can be done during all days of cycle, exact cycle day is not important.
---
EGG RECIPIENT – VISIT(S) TO TARTU, ESTONIA:
There is 2 options:
coming once (1 time, stay for about 3 days) only for the procedure being prepared at home (possible only if you have a doctor at home willing to help you with ultrasounds and hormonal tests) – usually this option is used by foreign patients!
coming several times (starting from doctor`s consultation, testing and continuing with preparations)
In case of option 1 – man needs to be in Tartu once and woman once, you may come separately if needed. Once for sperm collection/egg retrieval and then 3-5 days later for embryo transfer. No additional days.
---
PROCEDURE FORM REIMBURSING EXPENSES IN CASE OF INTERRUPTION OF THE EGG DONATION PROGRAM:
In Elite Clinic's egg donor program a doctor is between the recipient and the donor and in accordance with the law, both the recipient and the donor have a right to change their mind or to quit the program all together at any point of time. In connection with this, Elite Clinic has developed a reimbursement procedure, which applies equally to all patients.
In Elite Clinic the recipient can book an egg donor for a maximum of 3 months ahead. In Elite Clinic it is not possible to book a donor for a longer period ahead to enable the recipients to choose donors from among bigger variety. Many donors are also interested in donating four times a year instead of waiting for six months. Donor is a person as the recipient and has her own wishes (when to make a donation, how many times to donate, how often to donate, etc.). Just like the recipient can change their mind, so can do the donor, a donor could become ill, travel abroad and wish to change the time of the donation – we can not oblige the donor nor the recipient to take part in the procedure.
According to Elite Clinic's reimburse policy , Elite Clinic is responsible if something happens to the donor and the donor can not / or do not want to donate at a specific agreed time. In that case, the testing of the new donor, as well as the preparation of the new donor will be covered by Elite Clinic. In that case the recipient will not be compensated.
If the recipient wants to change something that has been already agreed with, then it is the recipient's responsibility. The recipient can also become ill, have unexpected family reasons, changes in time schedules may occur, etc. Depending on when the recipient wants to discontinue the program, dictates the amount of payment they loose from previously paid fee. Please read about this information carefully in the price list and if necessary, ask for additional information from your doctor before starting the program.
If the donor changes their mind and can not / do not want to donate at the time suitable for the recipient or the donor tests are abnormal, then Elite Clinic will make the effort to find a new appropriate donor suitable for the recipient for the agreed time. If the donor expressed the willingness to donate and the recipient renounces, we will try to find a suitable recipient for the donor for the agreed time or freeze the eggs in reserve. All changes are time related (the physician needs to make a new plan, look for a new donor or recipient, explain the problem by phone or email, if necessary repeat analyzes, modify treatment schemes, answer additional questions, etc.).
If the problem is related to the donor, then all the expenses are covered by Elite Clinic. However, if the problem lies with the recipient, then the recipient needs to cover them. If it is not possible to perform the embryo transfer at the scheduled time (for example due to an incorrect drug reaction, beginning of menstruation, becoming ill, getting into car accident, etc.) the egg cells could be fertilized with sperm, freeze the embryos and make the embryo transfer once the recipient gets well. In that case, it should be taken into consideration that the freezing and storage of the embryos and frozen embryo transfer are for an extra cost. This situation occurs less than 5% each year among recipients.
---
COMING ON WEEKENDS OR NATIONAL HOLIDAYS:
In case you want to come on weekend, there will be extra price (double price).
---
DOCTOR AT HOME:
Your doctor at home need to perform a scan and hormonal tests (see doctor at home for more). The scan is needed to check endometrium and ovaries, also is needed hormonal test for E2.
---
ABOUT PAYING:
After we receive payment the embryo transfer will be usually after 6-9 weeks. Using an egg donor you have to pay in advance to book a donor. About payments look at "Paying for Your treatment".
Bank account:
Kliinik Elite AS
IBAN: EE06 2200 2210 2079 1602
Swift code/BIC: HABAEE2X
SWEDBANK
Liivalaia 8, TALLINN
Please confirm all payments via e-mail info@elitekliinik.ee .
---
SHARING AN EGG DONOR WITH ANOTHER COUPLE
If you have your test results and everything is fine with them, you pay first payment, send to us filled questionnaire of your medical data (incl. Your 3 last period times) and after that doctor starts to search a suitable family and a donor and within half a year will be embryo transfer (ET).
Using this option you can't order ET for example in August or September because time depends also on other family and donor (and their cycles). But doctor will give his best to perform ET time you wish but we can't guarantee this.
---
STORAGE OF EMBRYOS
In Estonia it is allowed to keep the embryos in the freezer for 7 years, so do we. First year is for free (included in the price).
Whether you will be pregnant or not – price includes freezing and storing the embryos for 1 year.
---
TIME OF FP AND ET
Usually Follicular Punction (FP) is carried out on Monday till Wednesday and embryo transfer (ET) Wednesday till Friday. Day of FP depends on how donor's cells are growing, that is the reason we plan usually FP 2 days and then we say when we see that donor is ready.
Usually man needs to come to Clinic Elite in the morning 9-12.00 and ET is usually performed 12-15.00.
Exact times can be said when we know the time we take eggs from donor. The day when male partner must come depends on donor's oocytes growing process.
---
TRAVELLING TO TARTU, ESTONIA
Straight flights to Tartu from Helsinki – http://www.tartu-airport.ee/
Possible to come also via Riga or Tallinn, Clinic Elite offers transfer service (you will be met by our driver in the place you wish, for example airport or port) so the journey will be as much comfortable as possible.
We can also help with  hotel bookings if needed. More ->
---
MEDICATIONS
Medications for recipient – you can get them from your doctor in home country or we can send all medications by DHL. Medications usually needed:
Diphereline 3,75 mg depo (or Zoladex 3,6 mg depo or Procrene depo 3,75 mg)
Estrofem (or Progynon or Progynova or Zumenon) 2 mg IV org
Progesterone intravaginal 400 mg N 80 (or Crinone gel V org or Lugesterone 100 mg N300 or Utrogestan 100 mg N 300)
Usually cost of medication is about 400-430 EUR (includes DPD costs).
2 mg x 3 means: 2 mg at the morning, 2 mg at lunch time, 2 mg in the evening.
According to the result of recipient's ultrasound doctor decides the doses of medication needed for ET.
All medications must be used on time (always check the timetable in your instruction) and during the period named in your personal written instruction.
---
THAWING OF EMBRYOS
Clinic Elite thaws usually as long as we have 2 good embryos for ET. Statistically about 50% of frozen embryos die after the thawing procedure.
Usually we transfer 2 embryos (pregnancy rate ~ 50-70%). In Estonia is allowed to transfer also 3 embryos but due to the risks for mother and babies Clinic Elite does not suggest that.
With one frozen embryo pregnancy rate is about 50-70%. Results (statistics) of egg donor usage in Elite Clinic 2008-2020>>
Sometimes from 2 embryos we have one good, sometimes from 10 embryos after thawing there is none good enough for embryo transfer. For example from 4 embryos it is very good if we get 2 for embryo transfer after thawing!
In case we have 8 egg cells from donor and they fertilize and we get 4 good embryos, 2 will be transferred and 2 frozen. We keep them for 1 year for free and after that storage is for extra price.
If all embryos will die or don't grow as they should, Clinic Elite pays recipient back 90% (10% for consultations) of the sum patients have paid as a prepayment.
Price of FET does not depend on the amount of embryos transferred.
If you want to use frozen embryos, that will be a new program, you will need a schema and new preparation with hormones, ultrasounds and we need to prepare the embryos to grow them and transfer.
---
TWINS
After fresh 2 embryos ET we have twins pregnancy rate about 30%.
Twins pregnancy rate after frozen 2 embryos ET is about 17%.
---
USING A RELATIVE AS A DONOR
Allowed in Estonia.
NB! In Estonia are only allowed anonymous donors and donors who are recipient's relatives.
---
USING A FRIEND AS A DONOR
Not allowed in Estonia!
Also possible for example husband's sister + donated sperm.
Donor and recipient may be prepared at home and come to Clinic Elite, Tartu only for FP+ET.
Possible to have recipient's and donor's preparation (consultations, tests during stimulation, medication – that means the whole process) also in Clinic Elite. Exact price will depend on amount of medicines needed.
---
INFORMATION ABOUT YOUR EGG DONOR
Estonian law says that child and recipient are allowed to gain only information that is written in the list we send you via e-mail (list of egg donors and a list of sperm donors) and nothing more.
It is not allowed to see donor's photos in Estonia.
Donating is a woman's free will, there is no contracts etc., that means a woman donates only if she wants and likes to. If she has a vacation or she has other plans or problems with health (for example her nose is running or she has a cold or she is stressed), we can't use her and that is why we ask to choose more than one donor. Also besides issues regarding donor's plans and health, we have then a possibility to choose a donor who is best regarding cycle synchronization. Doctor will choose best of them for you. Of course possible to choose only one donor but that means more stress and even maybe the result is better if last choice can be made by doctor.
Donor must be healthy mentally and physically, must have 12 years of basic education, suggested to have a healthy child (so we have a proof that she herself is able to have children).
---
PREPARATION OF YOUR EGG DONOR
We need 3-4 weeks for tests of donor (karyotype and cystic fibrosis tests need some time), after that 4-5 weeks of donor preparation for ovum pick up and same time for your preparation. When money will be transferred the testing of donor starts immediately.
---
IF SOMETHING HAPPENS WITH YOUR EGG DONOR
If something happens with your donor, Elite Clinic offers you next cycle for free but this will be after 2 months!
But Elite Clinic can offer instead frozen embryo adoption if you agree. Because we do not have at that moment possibility to use other donor`s fresh egg cells in case something happens to your donor.
---
USING SPERM OF EUROPEAN SPERM BANK (ESB)
Recipient may buy and use sperm of ESB (although we have our own sperm bank).
Clinic Elite is not responsible of the quality of sperm bought from ESB.
In case recipient has decided to buy sperm from ESB, all the questions considering sperm are needed to ask directly from ESB.
Clinic Elite does not have any additional information about sperm donors from ESB. In case recipient has bought ID-release donor sperm from ESB, there is a need to follow their rules and when recipient's child is 18 years old, he or she can ask information according to rules and laws of ESB.
Regarding sperm:
For IVF two (ICI) straws necessary,
for ICSI one (ICI) straw,
for IUI two (ICI) straws.
Ordering sperm, embryos or egg cells from other banks (including ESB):
  handling of the sperm in Elite Clinic costs 120 EUR and
  storage of sperm, embryos or egg cells before/after the procedure costs 1 EUR per day.
---
FREQUENTLY ASKED QUESTIONS ABOUT INSTRUCTIONS
In the instruction there is said: "Last obligatory sexual intercourse (date is just an example) January 22". What it is meant by that?
You must have sexual intercourse or ejaculation on 22nd January then, after that it is not allowed. That is needed because we need sperms 3 days after intercourse (in case of IVF) and 2 days in case of ICSI.
---
QUESTION ABOUT CMV TEST
While we would never say the risk is zero, we believe that the risk is extremely low.
Semen processing methods that remove white blood cells are thought to reduce that risk. In our opinion, any risk can be reduced by the use of IUI vials which are prepared by a density gradient method which removes nearly all white blood cells and seminal plasma.
Based upon our experience and published literature, we do not believe that semen from a healthy donor who is antibody positive due to an old CMV infection poses any meaningful risk of transmitting CMV. This is, however, a medical issue that you should discuss with your physician.
---
EGG DONOR'S BLOOD TYPE
Source: Donor concierge 
| | | | | | |
| --- | --- | --- | --- | --- | --- |
| Mother Blood Type | Father Blood Type | Possible Donor Blood Type | Child Possible Blood Type With Parents | Child Possible Blood Type With Donor | Child Impossible Blood Type |
| 0 | 0 | 0 | 0 | 0 | A,B,AB |
| 0 | A | 0,A | 0,A | 0,A | B,AB |
| 0 | B | 0,B | 0,B | 0,B | A,AB |
| 0 | AB | A,B | A,B | A,B | 0,AB |
| A | A | 0,A | 0,A | 0,A | AB,B |
| A | B | 0,A,B,AB | 0,A,B,AB | 0,A,B,AB | NONE |
| A | AB | A,B,AB | A,B,AB | A,B,AB | 0 |
| B | B | 0,B | 0,B | 0,B | A,AB |
| B | AB | 0,A,B,AB | A,B,AB | A,B,AB | 0 |
---
RECOMMENDATIONS FOR RECIPIENT
Women should maintain a healthy lifestyle, involving weight-bearing exercise, avoidance of smoking, balanced diet and maintenance of normal body weight.
Dietary supplementation may be required in women with inadequate vitamin D status and/or calcium intake, and may be of value in women with low body mass index.
More about ferility factors you can read at: http://yourfertility.org.au/
If you have premature ovarian insufficience estrogen replacement is recommended to maintain bone health and prevent osteoporosis; it is plausible that it will reduce the risk of fracture.
The combined oral contraceptive pill may be appropriate for some women but effects on body mass are less favourable.
For women with premature ovarian insufficiency hormone replacement therapy with early initiation is strongly recommended to control future risk of cardiovascular disease; it should be continued at least until the average age of natural menopause.
Cardiovascular risk should be assessed in women diagnosed with premature ovarian insufficience.
At least blood pressure, weight and smoking status should be monitored annually
withother risk factors being assessed if indicated.
---
GENETICS
It is not possible to say even approximately percentages how your child will look like and what he or she will inherit from donor because nobody knows how these things exactly work.
But of course you may consult with geneticist and ask professional opinion and advice.
Only information we can provide about donors is in the donor list.
---
CONTACT
Should you have questions, concerns, or require any additional information, please do not hesitate to let me know.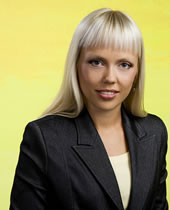 Foreign patients contact person Kristina Sõritsa
+37255689664
In case I did not reply within 5 working days, please send your e-mail again, I might have not received it.